Home
Shop
OEM fit navigation systems
Jeep Cherokee (2011 – 2021) 14.4″ IPS QHD 2K Touch-Screen Android Navigation System | Android 11 | GPS | BT | Wifi | CarPlay | Android Auto | 4G LTE
Save $242.79
Jeep Cherokee (2011 – 2021) 14.4″ IPS QHD 2K Touch-Screen Android Navigation System | Android 11 | GPS | BT | Wifi | CarPlay | Android Auto | 4G LTE
$ 1,334.55
Express Worldwide Shipping
Newest Android 11 !
Factory OEM Fit, No modification is required !
Retain Original Climate Control !
Retain Original Reverse Camera !
Retain Original Steering Wheel Control !
No Mounting Bracket or Wire Cutting is required !
Support 4G LTE !
Built-in Wireless Apple CarPlay and Wireless Android Auto !
Full installation instruction and video is included to ensure a smooth installation !
During the promotion period, we do offer OBD2 adapter for free as a gift. *Limited time offer only*
Built-in Wireless Apple CarPlay and Wireless Android Auto
In order to confirm the model of your vehicle, please have a look here before order: HERE
Description
All our products come with 1 year factory warranty. Extended warranty can be purchased separately.
This system is directly fit to the following models:
1: Jeep Cherokee ( 2011 2012 2013 2014 2015 2016 2017 2018 2019 2020 2021)
This system is loaded with the newest version of Android 11. It also fully comaptible with both iPhone and Android Phone as well.
This system is equipped with the newest Qualcomm Snapdragon Octa-Core Center processors. It can ensure the smoothness and user experience of the system as well.
Installation Video is available to ensure your smooth installation.
14.4″ QHD 2K Touch Screen  | Qualcomm Snapdragon | 8GB RAM | 128 GB Storage | WiFi | 4G LTE 
Built-in Wireless Apple CarPlay and Wireless Android Auto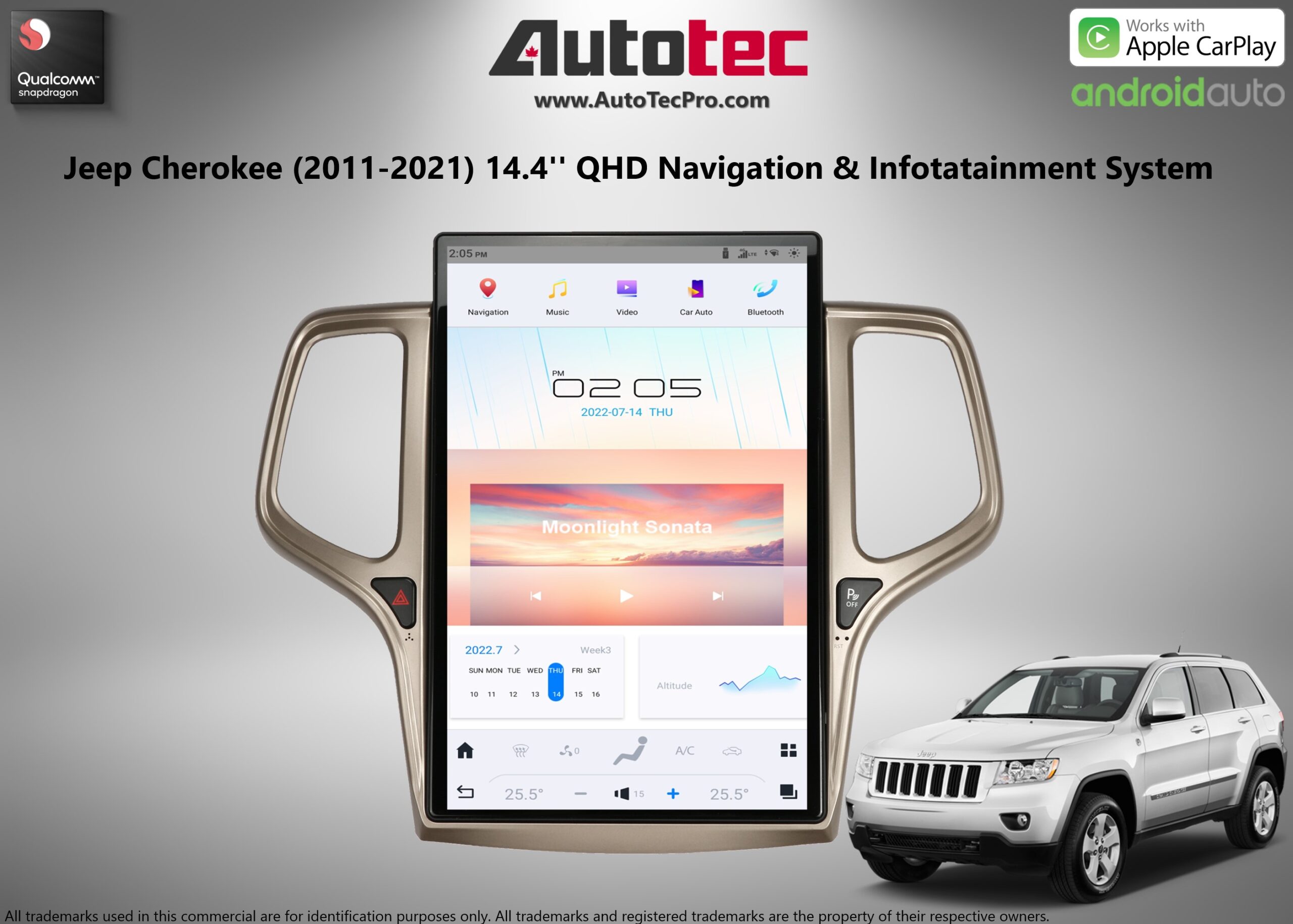 Main Features
High-performance Qualcomm Snapdragon Octa-Core Chipsets
14.4″ QHD 2560 x 1440 Screen Resolution (IPS Panel)
Built-in WIFI Adapter
Support 4G LTE
Wireless Apple CarPlay & Android Auto
Built-in high-capacity iNAND 8GB RAM + 128GB Storage
Support ATHEROS ESP GPS module
Support High Speed USB
Ultra Fast Start Time
Multi-language OSD Menu Support: Russian/Turkish/Arabic/Italian/Portuguese…..etc
Split Screen Feature
Support Original Steering Wheel Control
Highly Customizable Menu
Fast Internet Surfing
Note:
For SXM / Satellite radio, this system will come with built-in Sirius radio application which required WiFi internet connection.
Another alternative way is by additional module such as Sirius XM Commander (SXVCT1). This extra module can be connected to the system and will allow you to access the Sirius radio as well.
Kindly remind all customers that this system does not support original CD player / CD changer since the screen will cover the dash, as well as the original CD player as well.
Specification
Screen
• 14.4″ IPS QHD 2K Touch Screen
• Image Brightness / Contrast / Color / Saturation Adjustable
Built in GPS System
• Operation System: ANDROID 11
• GPS Module: SiRF IV
• GPS Processor: ATHEROS
• DDR4 Memory: 8 GB + 128 GB
• Navigation System: iGO8, TOMTOM, Route66, Sygic, Garmin…etc
• GPS Menu OSD Languages: English/Chinese/German/French/Spanish/Dutch/Czech/Danish…etc
• With Voice guidance (Male or Female)
• Dual Zone Function
• 3D Map Supported
Bluetooth Compatibility
• Version: V 5.0
• Built-in Microphone in the control panel
• External Microphone Jack Support
• Support A2DP Bluetooth music function
• Phone Book Support
• Call Log Support (Dialed Call – Received call – Missed call)
WIFI Connectivity
• WIFI Hotspot Compatibility (Android or iPhone)
• Auto-Detect Wifi Spot Connectivity
USB Connectivity
• USB Support Max. of 128 GB
• Multimedia Compatibility: Support playback of Video / Audio / Photo / E-Book directly from Media Card
• Support MP5 Video and RMVB media files
CarPlay and Android Auto Connectivity
• Support Apple CarPlay
• Support Android Auto
Input / Output
• 2 x RCA Video Output ( Back Sight Video Input / AUX Video Input )
• 4 x RCA Audio FR/FL/RR/RL
Optional Function
• DVB-T
• SD Card with map ( Most recent map for Canada and US )
• Rear View Camera Support
Package Content
• 1 × 14.4″ HD Touch Screen Android Navigation System
• 1 × Power Cable
• 1 × USB cable
• 1 × GPS antenna
• 1 x Installation kits
Packaging
• 1PC/box, Net weight: 4.0 Kg
• Gross weight: 4.5 Kg